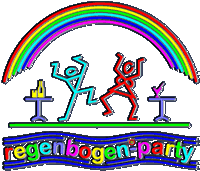 regenbogen®-party world premiere

Lake Wörth in Carinthia is hosting what will be one of the most impressive attractions this summer and also a world premiere. From the end of April to the middle of June the sun's rays playing on jets of water will create shimmering effects for the Rainbow Party, a unique event with superb music promising an incredible atmosphere. Klagenfurt's conceptual artist Reinhard Eberhart has chosen the 'Parkbad' lido in Krumpendorf to mount the spectacle. The Rainbow Party will be staged every afternoon - weather permitting - lasting until sunset. Billed to play at the event are the Comedian Harmonists, Günther Schifter with his golden oldies, a bar pianist and chanson singers. Gastronomic treats in store for the party guests include rainbow trout and rainbow beer.

Eberhart, renowned for drawing hundreds of thousands of visitors to his sunflower field parties in recent years, is now aiming to put some life into the early part of the season. In view of the expected media presence - some foreign television stations have already expressed an interest - Eberhart is primarily focusing on one thing: "Promoting Carinthia as a province with clean water, fresh air and lots of sunshine in an intact environment".

The premiere for the Rainbow Party, which Reinhard Eberhart has already registered as a trademark and patented worldwide, is Friday, 21 April - by invitation only. The ATS 7 million project is also sponsored by the Carinthian Provincial Government and the Carinthian Tourist Board.
---
the project regenbogen® - party is protected by copyright. inquiries to the master of ideas, reinhard eberhart, halli-hallo-platz 1, 9523 villach (austria / europe) .